Allow me to use your weaknesses against you in these delectable new lipstick fetish clips. Whether you love watching me apply pink lipstick or a darker hue, you are bound to love wanking and watching these. Just remember… if you cum without permission, and you are a BAD BAD BOY, and I don't like you.
*kissy*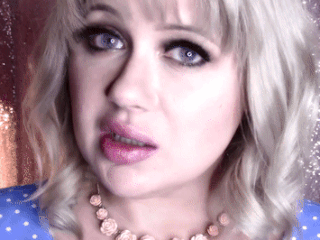 Watch Goddess Lycia apply layers of creamy pink lipstick and gloss while she encourages you to touch yourself, but forbids you to orgasm. Goddess looks so cute and sweet with her sparkly, pink, lusciously full lips. It's really difficult to NOT release, when she looks so adorable and sexy at the same time. But, of course, she is sure to remind you more than once that it would be very rude to make cummies without her permission. You have to hold your cummies back, so that you remain submissive, obedient, and servile.
9:03 mins. for $12.99
Includes: lipstick fetish, lip gloss fetish, pink lipstick, face fetish, tease and denial, cute and sweet style
Purchase through:
Niteflirt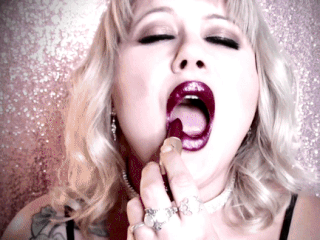 Similar to "Sweet Lipstick Tease," but with a dark magenta lipstick. Goddess Lycia looks like a seductive femme fatale, an upper-class Princess who is simultaneously amused by and bored with your wanking endeavors. As she applies layers of dark, creamy lipstick and shiny gloss, she once again encourages you to be sexually aroused and touch yourself. You will be surprisingly convinced that you need to cum while watching this video. Of course, in order to do so, you will have to get direct permission. If you want to make Goddess happy- -which is the main purpose behind thinking and behaving correctly- -you will contact her right after watching, so you can plead and beg for release.
11:27 mins. for $14.99
Includes: lipstick fetish, lip gloss fetish, dark lipstick, face fetish, tease and denial, vixen style
Purchase through:
Niteflirt